Product
AD5436
Universal System Controller
The AD5436 is a mid-range system controller that supports a variety of applications with highly customized measurement and control.
PRODUCT DISCONTINUATION INFORMATION:
The AD5435 Series was discontinued in September 2013.
Our new product, the AD5436 Series, replaces the AD5435 with a new improved and enlarged touch screen panel and can be supported by both Intel Celeron or Intel Core i7 CPUs.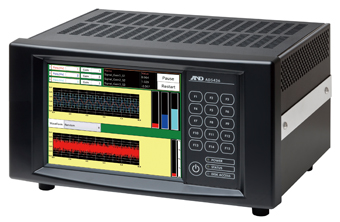 AD5436 Features and Overview
Main changes from previous AD5435 model
Introduction of a dual core CPU:
Depending on your needs, the CPU is selectable from 2 options, Intel Celeron P4505 1.86GHz or Intel Core i7-610E 2.53GHz.
Display screen widened:
Operability has been enhanced with an 8-inch liquid-crystal color screen (touch panel), nearly as wide as the actual unit.
Its usability follows in the footsteps of the AD5435
Stand alone operation:
It can be detached from a PC and used as equipment by itself. (PC is required for compiling and sending execution codes.)
General versatility and extendibility have been enhanced:
With different combinations of I/O boards (up to a maximum of 7), a measurement and control system can be created to suit your particular needs. Each I/O is provided with a Blockset from MATLAB/Simulink for control.
Features inherited from the AD5435:
Almost all of the I/O boards used with the AD5435 can still be used with the AD5436. The model assets of the AD5435 can be used again due to a fix in the build.
Straight from your imagination, into use as an actual machine

The AD5436 can be turned into exactly the type of high accuracy measurement and control device that you have conceived in your mind. With functionality that forms the core of model base development, the AD5436, with improved I/O and utility software, is a strong and adaptable partner for your business.
AD5436 Main Unit

Specifications
Item
AD5436
AD5436A
AD5436-I7
AD5436A-I7
CPU*1
Intel Celeron P4505 1.86GHz 2Core Cache2MB
Intel Core i7-610E 2.53GHz 2Core Cache4MB
Chipset
Intel QM57 Mobile Chipset
Memory
RAM:4GB DDR3 SO-DIMM SATA Disk Chip:1GB OS, application
OS
RTOS (Xenomai)
Display
8 inch Color TFT LCD (LED backlight) resolution 800 x 600 dots
Operation panel
Touch panel Function keys (15 customizable keys)
I/O slots
7 slots (for AD5430 series I/O board)
Power consumption
DC8 to 36V
AC90 to 264V
(50Hz or 60Hz)
DC8 to 36V
AC90 to 264V
(50Hz or 60Hz)
PMC I/F slot
1 slot (separate option)
Data transmission
Gigabit Ethernet (1000Base-T, 100Base-TX), for Auto MDI/MDI-X
Data storage
USB2.0 x 2*2
Power consumption
Max 200VA
Cooling
DC fan x 3 (2 units 120mm x 25mm, 1 unit 80mm x 15mm)
Dimensions
324.5 (W) x 169 (H) (not including feet) x 235.5 (L) mm
Weight
About 7kg (main unit)
Operation temperature range
0 to 40℃
Operation humidity range
20 to 90%RH (non-condensing)
Conditions of use
Altitude below 2000m
Contamination Level 2
IEC CAT II, for indoor use
Accessories
AC power cable (when purchasing AD5436A, AD5436A-I7)
DC power cable (when purchasing AD5436, AD5436-I7)
D-Sub15 male pin connector and connector hood (for REMOTE IN/STATUS OUT use)
*1 Inside 2Core the user interface is processed by 1Core
*2 Both cannot be used at the same time. The first USB inserted will be used.
Supported Windows operating systems and MathWorks software
OS : Windows2000 SP4, Windows XP Professional SP3 (32bit), Windows Vista Business SP1 (32bit), Windows 7 Professional (32bit) MATLAB : R12.1+, R13SP1, R14SP2, R2006b, R2007b, R2008b, R2009b
Option boards
Hardware
Software
Integrated Development Environment Tools and AD-VirtualConsole Runtime
VirtualConsole Designer
CANPack