Product
AD7011-EVA
A Linux computer powered by an ARM11 core
- Optimized for MATLAB/Simulink target machines
- Comes with a software tool for easy creation of control console screen and graphical user interfaces (GUI)
- Runs a Linux OS with a real-time extension (Xenomai), which os essential for measurement and control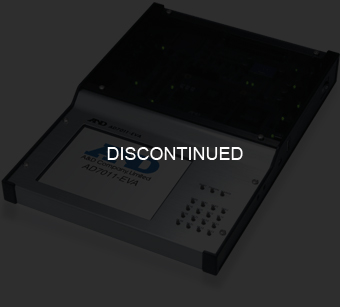 The AD7001-EVA is a Linux computer with diversified array of inputs and outputs, including ADC (Analog-Digital-Converter) and DAC (Digital-Anlog-Converter), which are necessary for measurement and contlo. You can make control programs using Mathworks MATLAB/Simulink or C-language (Eclipse) and create GUIs and console screens by drag-and-drop with A&D's AD-VirtualConsole (bundled software). You perform a series of operations on a Windows PC and then transfer your work to the AD70011-EVA. The AD7011-EVA includes S-function programs (driver software) for all equipped input-output interfaces as standard so you can get to work quickly. The AD7011-EVA is a very reasonably priced product for actual device validation tests and control as a target machine of MATLAB/Simulink, a modelbased development tool that has received much attention recently. The AD7011-EVA equipped with an i.MX31 with an ARM1136 core processor, a Linux OS with a real-time extension (Xenomai).
AD7011-EVA Board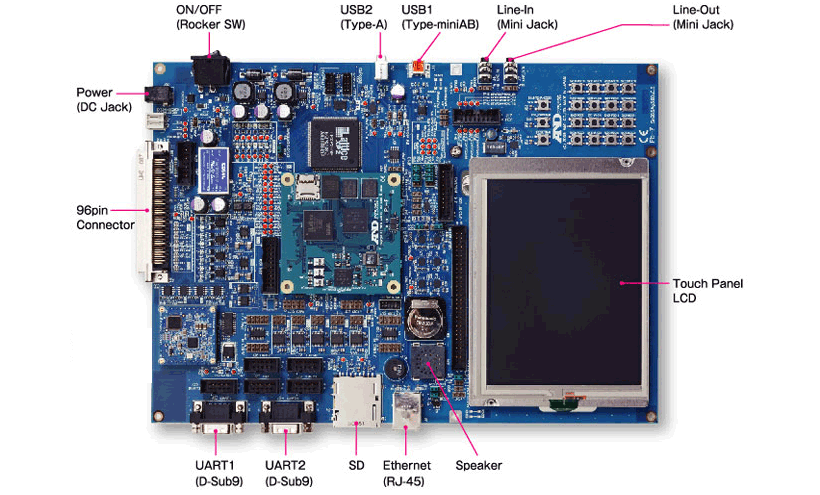 AD7011-EVA Board block chart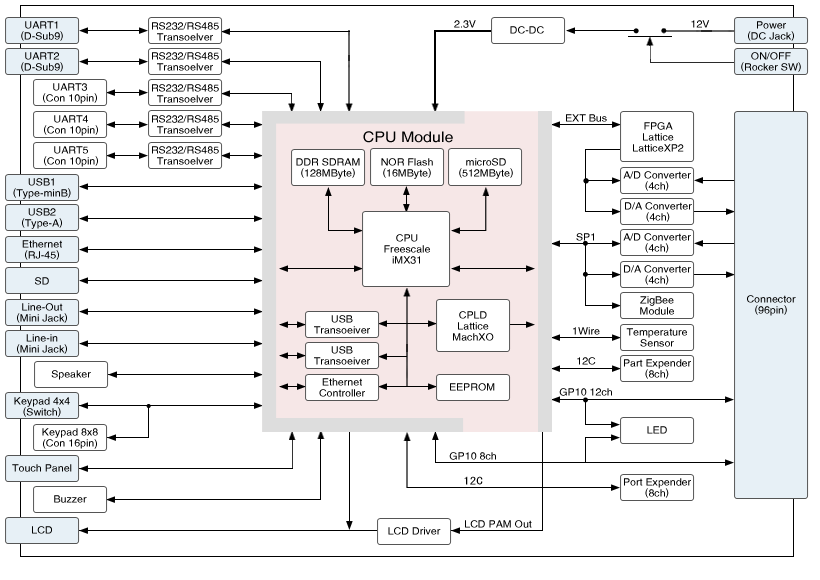 MATLAB/Simulink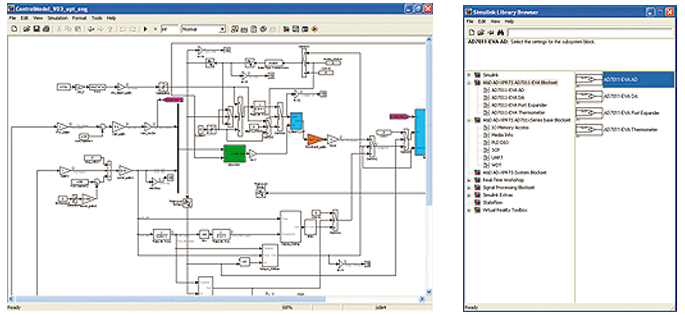 Create control programs with MATLAB/Simulink
Create model-based control programs on a Windows PC using MATLAB/Simulink.
Required software: MATLAB2006b series, 2008b or 2009b series, MATLAB, Simulink, and Real-TIme Workshop. (Trial versions of MATLAB, Simulink and other software can downloaded from the Mathworks website.)
MATLAB/Simulink R R

Confirm the license information that is included with the software
Supported Windoes operating systems

Microsoft Windouws XP Professional SP3
Microsoft Windouws Vista Vusiness SP1 (32bit)
Microsoft Windouws 7 Professional (32bit)
* MATLAB and Simulink are registered trademarks of The Mathworks, Inc.
GUI design tool: AD-VirtualConsole Designer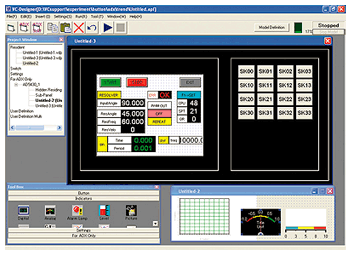 Easily design your own control console screnns on a host PC (Windows PC)
Choose and place diversfied parts, such as indicators, switches, signals, and graphs, to create various console screens
Console screens are created using drag and drop operations
Personalize the color and size of screen parts
After completing the screen, associate definitions with the control program, and then run the control program and console screen together
Bundled sofrware (A software DVD is bundled with AD7011-EVA)
Host environment (Microsoft Windows)

ARM cross compiler (cygwin + gcc4.1.1 + glibc2.4 + binutils2.17)
ARM cross debugger (gdb 6.6)
Application development environment (Eclipse 3.4.2 Ganymede Pleiades All in One + Code Generator Plugin for Eclipse)
GUI development tool (AD-VirtualConsole)
S-function for EVA board (DIO, UART, WatchDog, SPI, 1-Wire, I2C device, etc.)

Host environment (Linux)

ARM cross compiler (gcc4.1.1 + glibc2.4 + binutils2.17)
ARM cross debugger (gdb 6.6)
Root-file building tool (LTIB)

Target environment (AD7011-EVA)

Boot loader : RedBoot ·OS : Linux 2.6.19 + Real-time extension (Xenomai 2.3.4)
Root file Diversified software (busybox, glibc, alsa, openssh, samba, etc.)
Driver Library Driver Library for EVA (DIO, UART, WatchDog, SPI, 1-Wire, I2C device, etc.)

Confirm the license information that is included with the software
Supported Windows operating systems

Microsoft Windows XP Professional SP3
Microsoft Windows Vista Business SP1
AD7011-EVA Specifications
Model code
AD7011-EVA
OS
Linux + Xenomai (Real-time extension)
CPU
Freescale i.MX31
ARM1136JF-S (532MHz), I/D Cache: 16KB/ 16KB, L2 Cache: 128KB, floating-point coprocessor (VFP)
Memory
DDR SDRAM: 128MB, NOR: 16MB (for OS), microSD: 512MB (for applications)
LCD
LAT057A347F, 5.7-inch, TFT color, QVGA (320 x 240), 260,000 display colors, LED backlight, four-wire resistive touch display
UART
RS232C/RS485 (Switching)
UART1 and UART2: D-sub 9-connector and pin header
UART3 to 5: pin header only
USB
Host: Type-A connector x 1
OTG: Mini-AB connector x 1
Ethernet
RJ45 connector x 1
SD
SD card connector x 1
Sound
Line in mini jack (Stereo) x 1, Line out mini jack (Stereo) x 1, Small speaker (Mono), Buzzer
I2C
MAX7325 Port Expander (8 push-pull, 8 open-drain output) × 2, pin-header output × 2
1-Wire
DS18B20 temperature meter × 1, pin header × 1
Keypad
4 × 4 matrix switch and pin header
CSPI
ADC: 4-ch, 12-bit, single ended, ±10V input, AD7323 (96 pin connector)
DAC: 4-ch, 12-bit, single ended, ±5V output, AD5024 (96 pin connector)
External bus
ADC: 4-ch, 12-bit, single ended, ±10V input, AD7323 (96 pin connector)
DAC: 4-ch, 12-bit, single ended. ±5V output, AD5024 (96 pin connector)
FPGA for control (LFXP2-5E-5QN208)
Interrupt input
LVTTL (96 pin connector)
GPIO
12-bit LVTTL (96 pin connector)
Watchdog output
LVTTL (96 pin connector)
96 pin connector
PCR-E96LMD+ male connector (mounted on board) [Honda Tsushin Kogyo Co., Ltd.]
EEPROM
93C66, 4k-bit x 1 (for storing base board information)
JTAG
CPU Module PLD pin-header for writing x 1
CPU Module i.MX31 pin-header for debugging x 1
Board size
210 mm / 8.27 inches x 297 mm / 11.69 inches (A4 paper size)
Chassis size
222 mm / 8.74 inches (W) x 317 mm / 12.48 inches (D) x 43 mm / 1.69 inches (H)
Power source
12V, 3.8A, AC power adapter (Standard), 3.0V button battery (for back-up)
Usable temp range
0 to 70°C
Standard accessories
Quick start guide, DVD (development environment software, manual, circuit diagram, etc.),
AC adapter, PCR-E96FS+ (96-pin female solder type connector) [Honda Tsushin Kogyo Co., Ltd.]