Product
DSP Platform Software
Platform software designed for
running a model on DSP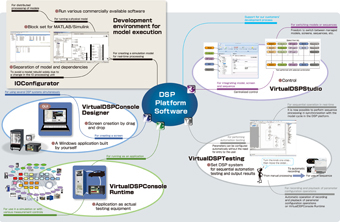 VirtualDSPConsole Designer
VirtualDSPConsole Runtime
A GUI application can be easily created as a Windows application or console panel for the DSP system.
VirtualDSPTesting
Functions as an automatic test environment for the DSP system with continuous testing possible, allowing your system to work through the night and weekends.
VirtualDSPStudio
A specialized manager allowing effective utilization of an expanded DSP system.
IOConfigurator
Separating the I/O connection configuration from the model it is possible to create a model with exceptional versatility.
Rebuilds are not necessary with tools performing I/O configuration or gain and offset calibration.
DSP Platform Software Operation Environment
CPU
3.0GHz Pentium 4 or equivalent processor or higher
2.0GHz Core2Duo or equivalent processor or higher
OS
Microsoft Windows XP Professional SP3 (32bit)
Microsoft Windows Vista Business SP2 (32bit)*1
Microsoft Windows 7 Professional SP1 (32bit)
Microsoft Windows 7 Professional SP1 (64bit)
Microsoft Windows 8.1 Professional (64bit)*1
RAM
1GB or higher
Hard disk capacity
500MB or more of spare space
Display
1024x786 resolution or higher, 16 bit high color or above
Related software
Microsoft .NET framework 2.0 SP2 or any version embedded with that framework
Software protection
USB dongle*2
*1 Only for VirtualDSPConsole Designer, Runtime
*2 Only for VirtualDSPConsole Designer, VirtualDSPTesting