Product
High-accuracy, measurement of vehicle speed and position in real-world conditions
Understanding vehicle behavior under real driving conditions is essential to optimizing the chassis and powertrain design.
Ever-growing requirements for vehicle performance and fuel economy create many challenges for vehicle dynamics research.
The Wheel force Sensor (WFS), part of A&D's Vehicle Measurement System, can perform high-accuracy real-time measurement
of forces (Fx, Fy, Fz) and moments (Mx, My, Mz) acting on the wheel hub under dynamic conditions.
The WFS uses distributed force measurement and model-based decomposition in the digital signal processor (DSP) for obtaining
individual force and moment components. This method provides extremely low cross-sensitivity, interference and temperature
sensitivity, while maintaining a high sampling rate. In addition to providing high accuracy and response rate, the WFS is also
capable of compensating for tire uniformity characteristics in real time to provide the ultimate force and torque measurement.
The WFS Wheel Force Sensor measures the six-component forces of a vehicle in dynamic conditions.

The WFS Wheel Force Sensor measures the six-comonent forces of a vehicle in dynamic conditions.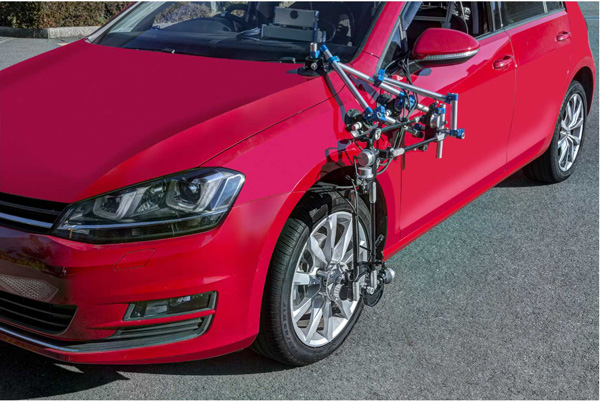 Highlights
Six-axis force measurement
- Forces (Fx, Fy, Fz)
- Moments (Mx, My, Mz)
High accuracy: ±0.1%
High resolution: 1/4000
Light weight: 3.14 kg
10kHz sampling rate
Maximum operational speed: 200km/h
Rotary type transmitter and rotary encoder installed inside bearing
Operating temperature range: −40°C to 100°C
Distributed Force Measurement
The distributed force detection method uses four-element strain gauges. These specially-designed strain gauges are arranged
for heat balance within an extremely small area to form a bridge circuit that eliminates the influence of heat gradients,
temperature changes and cross-talk interference.

High-speed DSP
The WFS controller is based on A&D's DSP (Digital Signal Processing) technology, and utilizes MATLAB/Simulink models.
This enables the calculation of the components synthesizing matrix, and coordinates transformation, selective harmonic
filtering and tire uniformity offset, all in real time.

Product Assembly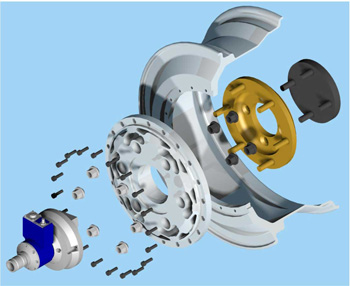 WFS Controller