Product
AD7852
Wheel Position Sensor
Dynamic vehicle measurement series
For the collection of wheel position data
Under various weather conditions
Features
High resolution 17 bit rotary encoder
Absolute value measurement system - no need for calibration
Attachable to a standard wheel
IP65 waterproof rating
Measured data stored on Micro SD card
Can connect to CAN logger
Single rod supporting type for high speed measurement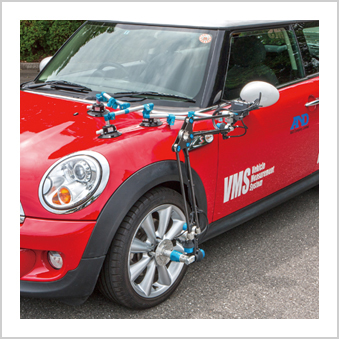 Principles of operation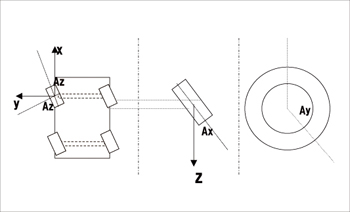 WPS - Wheel position sensors consists of rotary encoders. Angle data is aggregated to describe the vehicle position.
Tire position is measured against a reference point on the vehicle body and calculated with an original A&D model.
Individual encoders output the angle data which is converted into the following 6 values:
X displacement (Px : mm) : Vehicle running direction
Y displacement (Py : mm) : Shaft direction
Z displacement (Pz : mm) : Gravity direction
Ax (deg) : Angle of gravity direction and wheel diameter direction
Ay (deg) : Wheel rotation angle
Az (deg) : Angle of vehicle running direction and tire direction.
Logic
Individual encoders measure the angle independently.
This data is calculated simultaneously as absolute values by the AD7893-WPS.
Appearance

Data example

Vehicle used : Mini Cooper S
Test pattern: Sweep steering
Sampled wheel : Front left
Measured values : Positions and angles
Pitch angle and Tire radius
Measurement duration : 15 secs
Vehicle velocity : Up to 40km/h
Specifications
Sensor specifications
| | | |
| --- | --- | --- |
| Measurement range | x | ±30 |
| Angle (deg)*1 | y | Unlimited |
| | z | ±180 (Single rod type ±150) |
| Resolution | x | 0.024 |
| Displacement (mm) | y | 0.024 |
| | z | 0.01 |
| Resolution | x | 0.0027 |
| Angle (deg) | y | *2 |
| | z | 0.0027 |
| Resolution | | |
| Encoder | | 17bit/rotaion |
| Tire rotary encoder (deg) | range | 0 to 360 |
| | resolution | 0.09 |
| Maximum tire rotation (rpm) | | 3000 |
| Fixture Suction, magnet and safety belt | Upsprung weight | 2.38 |
| Weight (kg) | Upsprung weight | 1.22 |
*1: Dependent on the cable and fixture
*2: See tire rotary encoder range
AD7893 - WPS
Calculation rate
1kHz
Measured factors
Displacement x, y, z
Angle around x, y, z axes
Wheel speed
Angle speed
Low pass filter
4 dimension butterworth
Selectable from 1, 2, 5, 10, 20, 50, 100, 200, 500 (Hz)
Data output
Format CAN
CAN
Frequency : Selectable from 1, 2, 5, 10, 20, 50, 100, 200, 500, 1k (Hz)
Size
Width 97mm x Height 97mm x Depth 208mm
Width 110mm x Height 115mm x Depth 310mm Including handling frame
Power supply
AC 100 to 240V
DC 12V AC power adaptor
AC 100 to 240V
Operating temperature
5 to 40℃
Operating humidity*1
5 to 90%RH
weight (kg)
1.2