Product
AD7832
Accurate torque meter for general use (RTS-S)
- This model is a highly accurate, general-use type
- Exclusive for use as a torque meter by distributed force sensor method
- Rated torque: 200 Nm to 5 kNm
Total accuracy: 0.03%
Maximum number of revolutions: 12,000 rpm to 10,000 rpm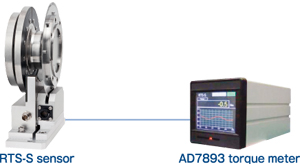 Display specifications of AD7893 torque meter
Display
3.5 inch TFT LC
Features
- Digital indication of torque measurement only
- Torque monitoring possible (horizontal axis indicates time)
- Indicated range and graph scale can be customized
- Analog signal output rate: 10 kHz
- Digital signal output rate: 5 kHz
Data output
Interface
- Analog voltage (0 to ±10 V)
- Digital data output
- CAN, Ethernet, RS485
- Filter output
- Binary and text
RTS-E2
Proffessional-use torque meter with high accuracy
- This model is used exclusively for torque measurement
- Rated torque: 200 Nm to 5 kNm
Total accuracy: 0.03%
Maximum number of revolutions: 10,000 rpm to 3,300 rpm
This product is built to order.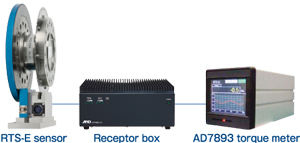 Display specifications of AD7893 torque meter
Display
3.5 inch TFT LC
Features
- Digital indication of torque measurement only
- Six component forces can be shown on the monitor
- Indicated range and graph scale can be customized
- Analog signal output rate: 10 kHz
- Digital signal output rate: 5 kHz
Data output
Interface
- Analog voltage (0 to ±10 V)
- Digital data output
- CAN, Ethernet, RS485
- Filter output
- Binary and text
High accuracy of 0.03%
Features of distributed force measurement technology
Conventional torque sensors and component force meters have a a bridge circuit made up of 4 strain gauges for each torque or component force. However, the AD7832 series utilizes a distributed force system that evenly distributes 4 dedicated element strain gauges on the sensors.
The distributed force detection method makes it possible to perform model calculations using components' forces in the area of strain. This makes it possible to calculate true torque precisely without interference from thrust and radial forces, while still simultaneously measuring these other forces.
Because torque is measured as multiple distributed forces, it is possible to lower the noise of model-calculated torque signals compared to conventional methods.
The distributed force detection method uses 4-element strain gauges. These specially designed strain gauges are arranged for heat balance within an extremely small area to form a bridge circuit that eliminates the influence of heat gradients and temperature changes.


• Concept of distributed forces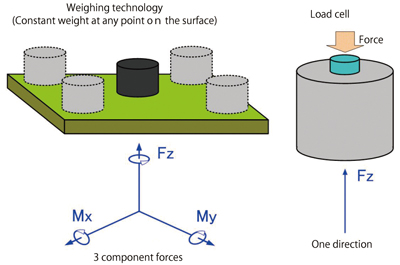 • RTS exclusive 4 element torsion gauges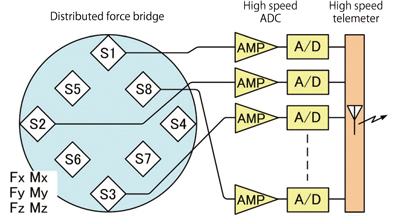 Model cycle processing and frame measurement
The torsion gauge signal is digital and is calculated by the DSP system at high speed using the matrix-vector method.
Digital/analog data linkage: Noise-free and high precision torque can be used as a feedback signal via the digital data link. All data can be stored on a PC.
[CAN, Ethernet, RS485], [Analog system, DA voltage output ±10 V]
Frame measurement (RTS-E)
It is possible to start recording the frame measurement by timer, interval and external trigger.
[Frame data output : 20 μsec (50 kHz) sampling data is block transferred.]


Non-contact sensor based on telemetry technology
Our development of high speed, large capacity telemeters contributes to our non-contact, simultaneous, highly-accurate measurements.
Detected distributed power is A/D transformed inside the sensor. The large amount of distributed force data is transferred with the high speed telemeter, enabling lossless signal transfer.


Rotation synchronization measurement
A slit disc rotary encoder installed on the sensor measures the rotation angle simultaneously. The angle information calculated enables output angular velocity, component force, and power.


Accuracy that can only be obtained with double range equipped (optional)
Users usually select sensor range according to the maximum torque value during testing. However, the desirable measurement range tends to be too wide to measure with one sensor. The RTS series can be used in double range mode at 1/5 of full scale without degrading total accuracy, so it can cover anything from a small measurement range to a large measurement range.


AD7832 series torque meter specifications
Torque Sensor
Model
AD7832
Unit
Remark
S200
S200D1
S500
S500D1
S1K
S1KD1
S2K
S2KD1
S5K
S5KD1
Performance
specifications
Rated capacity (RC)
200
500
1k
2k
5k
Nm
Full scale (FS)
200
200/40
500
500/100
1k
1k/200
2k
2k/400
5k
5k/1k
Nm
*1
Total error range
0.03
%FS
*2
Non-linearity
(0.02)
%RC
*3
Hysterisis
(0.02)
%RC
*3
Repeatability
0.01
%RC
*4
Resolution
0.02
%RC
*5
Temperature
specifications
Temp. effect at zero point
0.003
%RC/℃
Temp. effect on sensitivity
0.003
%Load/℃
Temp. range for compensation
-10 to +60
℃
Temp. range for operation
-20 to +80
℃
Temp. range for preservation
-20 to +85
℃
Rotation
specifications
Maximum rpm
12000
10000
r/min
Continuous rpm
12000
10000
r/min
Rotation variation at zero point
0.05
%RC
*6
Machine
characteristics
Moment of inertia
4.0 × 10-3
5.0 × 10-3
6.0 × 10-3
9.0 × 10-3
14.0 × 10-3
kgm²
Torsional stiffness
1.2 × 10³
1.1 × 10³
1.7 × 10³
2.2 × 10³
3.6 × 10³
kNm/rad
Torsional resonance frequency
7.9
7.9
8.3
7.8
8.0
kHz
Torsion angle
0.2 × 10-3
0.4 × 10-3
0.6 × 10-3
0.9 × 10-3
1.4 × 10-3
rad
*7
Allowable overload
200
150
%RC
Maximum overload
500
300
%RC
Maximum thrust load
5
10
20
30
50
kN
Maximum radial load
5
10
20
30
50
kN
Maximum curve moment
0.2
0.5
1
2
5
kNm
Weight of rotor
2.4
2.8
2.8
3.6
4.8
kg
Sensor Signal Processor
Model
AD7893-S
Unit
Exterior
Exterior dimensions
97(W) × 97(H) × 208.2(D)
mm
Weight
1.2
kg
Electric
specifications
Power supply
Input: 90 - 240V 50-60Hz, output: DC12V3A. Supply from AC adaptor
Power consumption
20 (AC adaptor included)
W
Operation temp. range
10 - 40
℃
Interface
Rotary pulse input
Line driver differential input (RS422/485 conformity) 3ch (A phase, B phase, Z phase)
CAN
Hi-speed CAN (differential signal I/F) CAN 2.0B 1ch
Analog output
Single end output 3ch (torque, revolution velocity and revolution angle)
Digital input
Current drive input by photocoupler insulation (sink type) 2ch (range switch, zero point adjustment )
Digital output
Open collector output by photocoupler insulation, 3ch (range switch, status and watchdog output)
Serial communication
RS485 1 port
*1: Hi/Lo
*2: Measured with static torque testing including non-linearity and hysteresis
*3: Reference number
*4: Measured with static torque testing
*5: BW=100HZ
*6: Value after revolution zero calibration
*7: Torsion angle on rated torque value
RTS-E/E2 series torque meter specifications
Measurement range
200 Nm
500 Nm
1 kNm
2 kNm
5 kNm (Option)
Unit
Remark
Model
RTS-E200
RTS-E500
RTS-E1K
RTS-E2K
RTS-E5K
Performance specifications
Rated capacity (RC)
200
500
1k
2k
5k
Nm
Total error range
0.03
%RC
*1
Non-linearity
0.02
%RC
*2
Hysterisis
0.02
%RC
*3
Repeatability
0.01
%RC
*4
Resolution
0.02
%RC
*5
Temperature specifications
Temp. effect at zero point
0.003
%RC/℃
Temp. effect on sensitivity
0.003
%Load/℃
Compensated temp. range
-10 to +60
℃
Temp. range for operation
-20 to +80
℃
Temp. range for storage
-20 to +85
℃
Rotation specifications
Maximum rpm
10,000
6,600
3,300
rpm
Continuous rpm
10,000
6,000
3,000
rpm
Rotation variation at zero point
0.05
%RC
Machine characteristics
Inertia moment
5.8 × 10-3
5.8 × 10-3
5.8 × 10-3
19.7 × 10-3
42.0 × 10-3
kgm²
Torsion stiffness
0.3 × 10³
0.8 × 10³
1.6 × 10³
5.6 × 10³
7.7 × 10³
kNm/rad
Torsion resonance frequency
5.6
5.6
5.8
5.6
4.3
kHz
Torsion angle
0.6 × 10-3
0.6 × 10-3
0.6 × 10-3
0.6 × 10-3
0.7 × 10-3
rad
*6
Allowable overload
200
%RC
Maximum overload
500
%RC
Maximum thrust load
5
10
20
30
50
kN
Maximum radial load
5
10
20
30
50
kN
Maximum curve moment
0.2
0.5
1
5
5
kNm
Weight of rotor
3.4
3.4
3.4
5.5
8.8
kg
*1: Measured with static torque testing including non-linearity and hysteresis
*2*3: Reference number
*4: Measured with static torque testing
*5: BW=100HZ
*6: Torsion angle on rated torque value